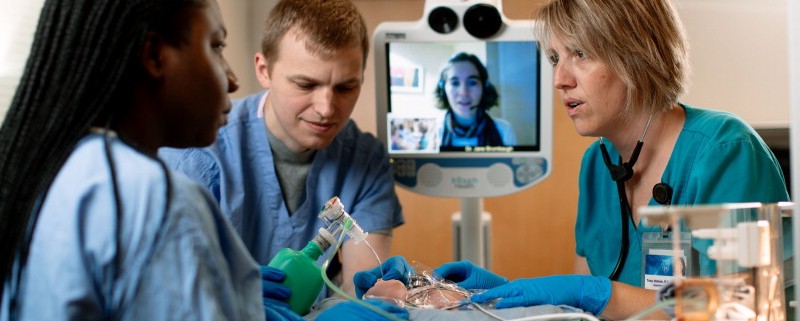 By Advancing the Science contributor
In late November, the COVID-19 HealthCare Coalition, comprising more than 1,000 health care organizations, technology firms and nonprofits, including Mayo Clinic, published the Telehealth Impact Physician Survey results.
The survey, managed through Mayo Clinic and led by Steve Ommen, M.D., medical director, Mayo Clinic Center for Connected Care and Nilay Shah, Ph.D., chair of Mayo's Division of Health Care Policy and Research, two of the project's co-investigators, had several research goals. One was to assess how telehealth served the clinical needs of patients during COVID-19. Additionally, the survey sought to get feedback from physicians on the kinds of telehealth platforms and technologies they used and respondents' feelings about the value of telehealth and their expectations for using telehealth after the pandemic.
The 48-question survey captured the opinions of 1,594 physicians and other licensed health care professionals between July 13 and Aug. 15, 2020. Among those surveyed, 87% were medical doctors and 13% were non-physician providers including nurse practitioners, psychologists, physician assistants and social workers.
Findings
More than 75% of respondents said telehealth enabled them to provide quality care for COVID-19-related care, acute care, chronic disease management, hospital/emergency department follow-up, care coordination, preventative care, and mental/behavioral health.
Other findings show strong support for telehealth, resulting in:
Improved patient health noted by 60% of respondents.
Increased motivation to integrate telehealth across 68% of practices.
Improved job satisfaction among 55% of survey participants.
More than 80% of respondents indicated that telehealth improved the timeliness of care for their patients. A similar percentage said that their patients had reacted favorably to using telehealth for care.
Additionally, 11% of responding health care professionals said they were using remote patient monitoring technologies with patients in their homes. Commonly used tools included smartphones, blood pressure cuffs, body weight scales, and pulse oximeters.
"The strong support shown for telehealth, as evidenced in these results, reinforces the knowledge that telehealth is critical to how we deliver health care today," says Dr. Ommen. "The use of telehealth during the COVID-19 pandemic highlights its importance in care delivery. Its continued use will be instrumental in connecting to patients everywhere."
Challenges
Survey results indicated some challenges:
More than 73% of respondents indicated that no or low reimbursement would be a major challenge post-COVID. (Federal and state governments have authorized temporary adaptations to regulations during the pandemic to enable telehealth.)
About 58% of surveyed providers indicate that patients are not able to currently access their telehealth technology directly from their electronic health records. (At Mayo Clinic, patients are able to do this using their Patient Online Services portal.)
More than 64% said technology challenges for patients was a barrier to the sustainable use of telehealth. These perceived barriers included lack of access to technology and internet/broadband, as well as low digital literacy.
Mayo Clinic understands these challenges and has teams in place working to address them. "We are working with organizations and groups regarding telehealth regulations and reimbursement issues, including broadband access so that we can recommend strategies and options," says Ommen. "Mayo Clinic patients already have access to telehealth directly from through Patient Online Services. And we keep adding new features to the patient portal as we continue to move forward to meet our 2030 goals."
Patients' Perceptions
The COVID-19 Health Care Coalition believes that patients' expectations are also changing. Dr. John Halamka, president, Mayo Clinic Platform and co-chair of the coalition, says, "In addition to technology and policy change during COVID-19, we've had culture change. Patients will expect more virtual care even after we return to the new normal post-vaccination." The next phase of the coalition's research will assess patients' perceptions of telehealth during the pandemic. 
###
NOTE: Mayo Clinic team members involved in this project along with Dr. Ommen and Dr. Shah are John Halamka, M.D.; David Jiang, Tina Liffrig Ricardo Rojas, Lindsey Sangaralingham; and Henry Ting, M.D. Dr. Shah is also the Robert D. and Patricia E. Kern Deputy Director of Research for the Mayo Clinic Kern Center for the Science of Health Care Delivery. Several members of the research team are supported by the center, which works within the Mayo Clinic Practice to identify, test, implement validate and disseminate innovative, practice transforming knowledge.
Source: Mayo Clinic
https://www.doctory.me/wp-content/uploads/2021/01/Neonatology-telemed-team.jpg
533
800
Osama ChamsiPasha
https://www.doctory.me/wp-content/uploads/2020/09/logoW-300x138-2-300x87-1.png
Osama ChamsiPasha
2021-01-16 14:46:50
2021-01-16 14:46:53
Nationwide survey finds physician satisfaction with telehealth